Members of the European Fastener Distributors Association (EFDA).
Our members are the national fastener distributor associations in Britain and Ireland, France, Germany, the Netherlands, Italy and Spain, as well as companies from other European countries through MEFDA.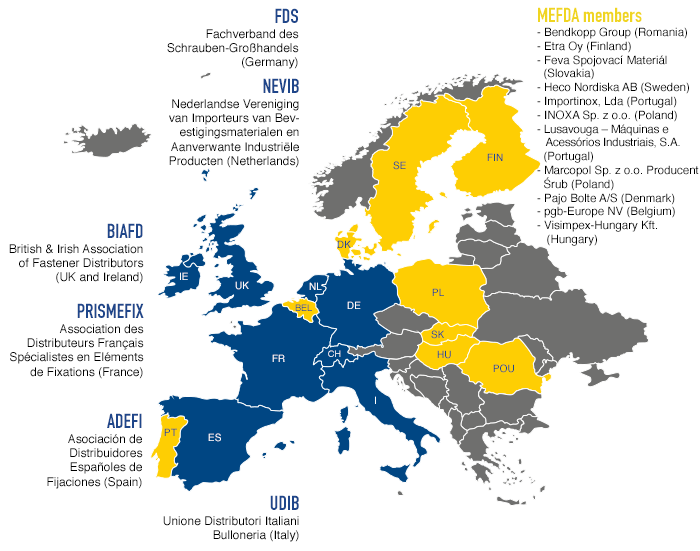 National member associations.
ADEFI – Asociación de Distribuidores Españoles de Fijaciones (Spain) PDF
BIAFD – British & Irish Association of Fastener Distributors (UK and Ireland) Website
FDS – Fachverband des Schrauben-Großhandels (Germany) Website
NEVIB – Nederlandse Vereniging van Importeurs van Bevestigingsmaterialen en Aanverwante Industriële Producten (Netherlands) Website
PRISMEFIX – Association des Distributeurs Français Spécialistes en Eléments de Fixations (France) Website
UDIB – Unione Distributori Italiani Bulloneria (Italy) Website
MEFDA members.
Bendkopp Group (Romania) Website
Etra Oy (Finland) Website
Feva Spojovací Materiál (Slovakia) Website
Heco Nordiska AB (Sweden) Website
Importinox, Lda (Portugal) Website
INOXA Sp. z o.o. (Poland) Website
Lusavouga – Máquinas e Acessórios Industriais, S.A. (Portugal) Website
Marcopol Sp. z o.o. Producent Śrub (Poland) Website
Pajo Bolte A/S (Denmark) Website
pgb-Europe NV (Belgium) Website
Visimpex-Hungary Kft. (Hungary) Website